News
Don't miss our upcoming vernissages, workshops, lectures and screenings.
Sladkých 90 promění nábřeží v přehlídkové molo

Už jste si v kalendáři poznamenali datum 16.9 a plánujete se zúčastnit akce Zažít město jinak na Smetanově nábřeží? Pak si rozhodně nenechte ujít jedinečnou módní performance, která vás zaručeně pohltí.

Vrcholem programu bude unikátní módní přehlídka Sladkých 90 designérů ze SmetanaQ Showroomu pod taktovkou Olo Křížové a ve spolupráci s organizací ŽIVOT 90, která podporuje seniory v nezávislém a společenském životě. V krásném mezigeneračním propojení vynesou senioři a seniorky se svými blízkými na molo kolekce designérek a designérů ze SmetanaQ Showroomu.

Představí se modely návrhářů Venduly Šulanové, Hany Frišonsové, Daniely Peškové, Vojtěcha Lopoura nebo značek KAFKA a Transformer Jacket zkombinované s doplňky KRAS, Fernando Echeverria a Jana Rollo. Nebudou chybět ani šperky Hany Polívkové, Dany Bezděkové a Antonie Lecher.

Přehlídky se budou konat v 16:00 a 18:00.

Opening of the exhibition of the MĚKKOHLAVÍ art group (Softheaded group)

A polemical and contemporaneously immediate reaction to the Tvrdohlaví (Hardheaded group). Conceptual artists from the peripheries who, in the late 1980s, decided to confront postmodernism. Authors whose shared sensitivity lay in non-depictive and process-oriented reflection of nature. Through exaggeration and parody, they anticipated themes of institutional critique and the artist's status. The current exhibition doesn't merely present the Měkkohlaví group (Softheaded group, 1988 - 1990), it delves much deeper into the creative work of its members, who eventually - each in their own way - became distinctive phenomena of the international art scene.

MĚKKOHLAVÍ / Karel Adamus, Jan K. Čeliš, Martin Klimeš, Petr Kvíčala, Otis Laubert, Milan Magni, Václav Malina, Milan Maur, Marian Palla, Miloš Šejn, Jiří Šigut, Jiří Valoch

WHEN: 21.09.2023 from 18:00
WHERE: SmetanaQ Gallery (2nd floor)

Curated by: Jana Písaříková and Ivona Raimanová
22.09.2023 - 26.11.2023

SMETANAQ TALKS BY OLO

Srdečně vás zveme na další SmetanaQ Talk s módní vizionářkou Olo Křížovou, který se uskuteční v naší galerii v rámci doprovodného programu MBPFW.

Móda v umění vs. umění v módě
Je móda umění? A je umění móda? Pokusíme se na tyto velmi diskutované otázky odpovědět. Moderované diskuse se zúčastní významní zástupci z módní a umělecké sféry, kteří budou hovořit o svých zkušenostech s propojením těchto dvou světů na lokální i mezinárodní úrovni.

Moderuje: Olo Křížová
06. 09. 2023 18:00 - 19:00

Smetanovo nábřeží 334/4
110 00 Praha 1

» ZAŽÍT MĚSTO JINAK NA SMETANOVĚ NÁBŘEŽÍ «

Poprvé v rámci sousedských slavností Zažít město jinak ožije velká část Smetanova nábřeží, a to přímo před domy č.o. 2 - 6 . V sobotu 16. 9. se zde na jednom místě potká zábava, design, umění, hudba a výborné jídlo i pití. Přijďte s námi hodit Smetanovo nábřeží do gala a užít si ho "jinak". 

Těšit se můžete na zmrzlinu a slané tapas od SmetanaQ Café & Bistro, skvělé naturální víno zajistí Café Slavia a osvěžující drinky pro vás namíchá Klub Famu. Díky Hvězdnému bazaru si budete moct pořídit něco hezkého na sebe a zároveň tím podpořit dobrou věc. To vše za hudebního doprovodu těch nejlepších pražských buskerů. Ve SmetanaQ Gallery se v rámci výstavy Petra Nikla budete moct nechat vtáhnout do tajů hry s camerou obscurou.
Speciálním vrcholem dne bude unikátní módní přehlídka designérů ze SmetanaQ Showroomu ve spolupráci s ŽIVOTem 90. V krásném mezigeneračním propojení odprezentují senioři a seniorky současnou lokální designérskou scénu přímo na nábřeží v rámci přehlídky SLADKÝCH 90.
Večer můžete zakončit ve dvoře SmetanaQ promítáním studentských filmů a na následné afterparty SEEYA THERE by Seeya Creative.

A to není zdaleka vše! Program budeme postupně zveřejňovat.
Těšíme se na vás společně se @Zažít město jinak!

Vernisáž výstavy Petra Nikla SVĚTLOPLACH

Výstava Petra Nikla, doprovázená fotografiemi Honzy Sakaře a zvukovým dialogem Ondřeje Smeykala, je částečně procesuální instalací reflektující vlastnosti a povahu galerie umístěné na pražském nábřeží v druhém patře. SMETANAQ vás zve do světa světelných a zvukových proměn a her. Součástí projektu je představení hudebního komplexu strunných nástrojů Petra Nikla spolu s experimentálně dechovou hrou na australský nástroj didgeriddo Ondřeje Smeykala. Toto hudební vystoupení světelně ozvláštní velkoplošná projekce připravená fotografem Honzou Sakařem, který do výstavy vstupuje cyklem fotografií na plechu. Kurátorem výstavy je Petr Vaňous.

KDY: 8. 6. 2023 od 18:00 hodin
KDE: SmetanaQ Gallery (2. patro)

PETR NIKL / SVĚTLOPACH
9. 6. 2023 - 17. 9. 2023
DOPROVODNÝ PROGRAM: https://fb.me/e/yHxLItT3

Komentovaná prohlídka výstavy Jakuba Špaňhela OBLAKA POD ZLATÝMI HVĚZDAMI

25. 5. 2023 od 18:00 hod. proběhne komentovaná prohlídka výstavy Jakuba Špaňhela OBLAKA POD ZLATÝMI HVĚZDAMI.

Provázet ji bude autor Jakub Špaňhel.

Jakub Špaňhel (1976, Karviná) studoval Akademii výtvarných umění v Praze v intermediálních ateliérech Jiřího Davida a Milana Knížáka. Svůj expresivně impresivní styl objevil velmi brzy, maloval interiéry kostelů, benzinky, krematoria, lustry, banky, centra měst. Později ženy, venkov, lesy, květiny, motýly, traktory, slepice.

19. 4. 2023 od 18:00 hod.

SMETANAQ GALLERY
2. patro domu SmetanaQ

SVATBY NA SMETANĚ

První pop-up event designérů ze SmetanaQ Showroom zaměřený na svatby! Designéři, ve spolupráci se svatebním magazínem MILE, představí produkty vhodné na svatbu nejen pro samotnou nevěstu s ženichem, ale také pro družičky, svědky, rodinu a zkrátka všechny svatebčany. Přijďte si vybrat kvalitní a nadčasový svatební outfit ve kterém zazáříte! 21. 2. proběhne v Showroomu koktejl opening s designéry, kde se můžete setkat se všemi tvůrci najednou a přiťuknout si s nimi na svatební sezónu 2023.

Otevírací doba: 21. 2 . 18:00 - 22:00 (koktejl opening )
22. 2. - 26. 2. 11:00 - 19:00

KDY: 22.—26. 2. 2023 / 21. 2. od 18:00 koktejl opening s designéry
KDE: SmetanaQ Showroom, 1. patro domu SmetanaQ

VÁNOCE NA SMETANĚ 2022

Vánoce plné prémiového designu a udržitelnosti!

I letos si pro vás designéři ze SmetanaQ Showroomu připravili to nejlepší ze světa módy, šperku a designu. Pod jednou střechou nakoupíte dárky od renomovaných českých i zahraničních designérů přímo z jejich ateliérů. Potěší Vás také vánoční sleva 10 % téměř na vše.

Je vaším snem osobní setkání s designéry? Poznamenejte si datum 7. 12. 2022 od 18 hodin, kdy proběhne KOKTEJL OPENING s DJ Antonií Lecher, na kterém budou všichni pohromadě. Přijďte si s designéry přiťuknout vánočním drinkem, možná vás pozvou i do svých ateliérů. Vrcholem večera bude vánoční tombola s hodnotnými cenami od všech designérů ze SmetanaQ Showroom. Celý výtěžek poputuje na charitu, protože kdy jindy darovat pocit dobra než právě pod stromeček.

KDY: 7.-11. 12. 2022
KDE: SmetanaQ Showroom / 1. patro domu SmetanaQ

Exhibition SPOLU—PRACE

Veronika Šrek Bromová & Miloš Šejn
1. 10. 2021 — 31. 3. 2022

Vernisáž 30. 9. 2021 od 18.30 hodin (součástí GRAND OPENING : SMETANAQ GALLERY)

Jaké jsou společné výhledy a jak se liší od našich očekávání? Jakou mají naše vize perspektivu a jak odvážné je tvrzení, že víme, co bude dál? Společná výstava Veroniky Šrek Bromové a Miloše Šejna v oknech galerie Fasáda se zabývá úvahou nad výhledem naší společnosti do blízké i vzdálené budoucnosti. Zdůrazňuje, jak důležité je rozhlížet se kolem sebe, vyhlédnout ven z oken svého soukromí a následně se dokázat vcítit, porozumět a nesoudit. Zve diváky, aby nahlédli pod povrch svých životů a uvědomili si, jak život každého z nás ovlivňuje společný život náš všech.

Kurátorka: Markéta Musilová

www.galeriefasada.cz

GRAND OPENING : SMETANAQ GALLERY

Srdečně Vás zveme ve čtvrtek 30. 9. 2021 na slavnostní otevření nové galerie SMETANAQ GALLERY a vernisáže dvou výstav.

Přijďte objevit jedinečné propojení galerie ve veřejném prostoru (Fasáda) s galerií s klasickým konceptem, které bude nebízet ojedinělé možnosti prezentace a nové pohledy na tvorbu lokálních umělců. Začínáme propojením výjimečných konceptuálních umělců Miloše Šejna a Veroniky Šrek Bromové.

Veronika Šrek Bromová & Miloš Šejn: SPOLU—PRÁCE
kurátorka: Markéta Musilová

18.30 hod
galerie Fasáda – křižovatka ulic Divadelní a Krocínova, Praha 1

Více informací o galerii Fasáda ZDE.

&

Miloš Šejn: Í H M N Í
kurátorka: Martina Vítková

19.00 hod
SmetanaQ Gallery – Smetanovo nábřeží 4, Praha 1
Gallery
i
Opening hours
Tu–Su 11 am – 6 pm
E-mail
gallery@smetanaq.cz
---
Located on the second floor
SmetanaQ Gallery is an art gallery believeing that art belongs to every household. The gallery connects the presentation of beginning artists with well-established authors, across artistic styles, gender and age. Through careful curatorial selection, it gives voice and space to those who want to present their work to the general public. It focuses on connecting the art world with the commercial world, thus creating a space for interaction, discussion and mutual inspiration. Last but not least, its goal is to enliven public space with art. That's why artists exhibiting in the gallery also present large-format works in the windows of the Facade Gallery.

As part of the SmetanaQ concept of promoting art and design. There are three interconnected, painstakingly restored halls, which offer generous space with views of the Prague Castle and the Petřín Hill.
Petr Nikl / LUCIFUGOUS
in author collaboration with Honza Sakař and Ondřej Smeykal 
events: https://fb.me/e/yHxLItT3
Petr Nikl's exhibition, accompanied by Honza Sakař's photographs and Ondřej Smeykal's audio dialogue, is partly a procedural installation reflecting the properties and nature of the gallery located on the Prague riverbank on the second floor. SMETANAQ invites you to a world of light and sound transformations and games. Part of the project is the presentation of a musical complex of stringed instruments by Petr Nikl together with an experimental wind performance on the Australian instrument didgeridoo by Ondřej Smeykal. This musical performance will be illuminated by a large-scale projection prepared by the photographer Honza Sakař, who enters the exhibition with a cycle of photographs on metal. The curator of the exhibition is Petr Vaňous. 
Part of the darkened room which has a procedural installation, will be light games, created by a simple camera obscura projection. The projection will be musically accompanied by Petr Nikl on his variety of stringed instruments and Ondřej Smeykal on the Australian didgeridoo and gong. After the thirty-minute performance, there will be space for children to play on their own.
curator: Petr Vaňous
free entry
Events
i
Opening hours
Dle domluvy
E-mail
event@smetanaq.cz
---
Located on the second floor
The gallery is also available for non-cultural events. Would you like to use up to 300 square metres of space with a view of the Prague Castle and Petřín? We offer a unique place for your meetings, presentations, lectures and workshops.
The price of renting the space as well as detailed specifications will be sent on request. events@smetanaq.cz
SmetanaQ Events services

We can fine-tune your event down to the last detail. We will take care of everything from the creative concept, program to decoration, lighting or catering.

Each event is unique. You can unleash your imagination and SmetanaQ Events will make it happen.

Contact us at events@smetanaq.cz
Showroom
i
Opening hours
we–fr 13:00–19:00
sa 11:00–18:00
E-mail
showroom@smetanaq.cz
---
Located on the first floor
SMETANAQ SHOWROOM is exactly the kind of space we have made available in our house for young and experienced artists to work alongside one another in shared studios, The generous, minimalistic lounge allows people interested in craftsmanship to meet artists and see how their works are created. Designers can meet both clients and other studio tenants to interact, inspire, and create. SMETANAQ SHOWROOM is also a place for exhibiting the best works from a given studio. When selecting the designers to occupy our studios, we focused on fashion and fashion accessories, jewelry and footwear. Separate studios spread across the city are without doubt poetic, but we enjoy sharing, communicating and forming communities of highly individual creators.


Opening Hours
Wednesday–Friday 13:00–19:00
Saturday 11:00–18:00
Designers
Deelive
i
Opening hours
daily 10 a.m. - 8 p.m.
E-mail
sales@deelive.cz
---
Located on the ground floor
The deelive brand focuses on the production and sale of furniture and accessories created by successful Czech designers and local up and coming talent. The aim of the brand is to bring quality Czech design to the general public, both in the Czech Republic and abroad, and to support designers in their production. DEELIVE products are characterized by their uniqueness, highly accomplished finish and top-quality materials. With the aim of extending the concept of promoting Czech design, the brand of the deelive design store offers an exclusive selection of interior furnishings, glass, lighting, jewelry, fashion and accessories, toys, books and cosmetics by Czech design.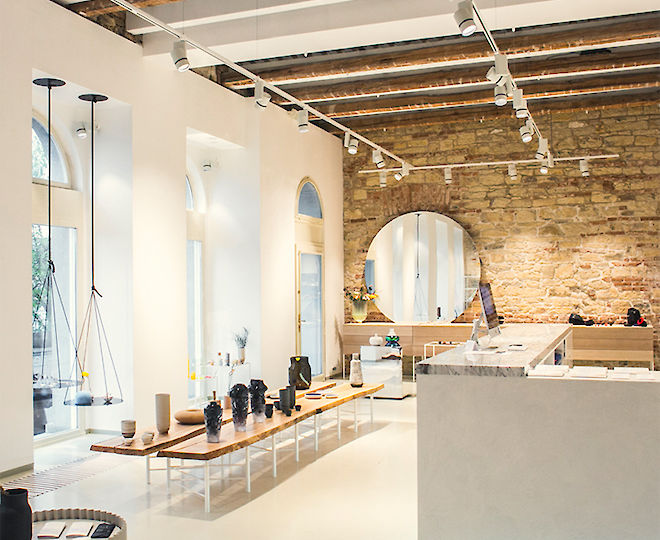 The deelive design store is one of the largest galleries in Prague that sells Czech design. It offers its customers a unique experience and a place for extraordinary meetings. Every product is treated as a work of art and sold with loving care. Professionally trained staff provide visitors with an insight into the behind of the scenes of creative work. Moreover, we can arrange a visit to the studios on the second floor, where you can watch designers at work.
Café & Bistro
i
Opening hours
MON - SUN 9 AM - 10 PM
E-mail
cafebistro@smetanaq.cz
---
Located on the ground floor
Our SmetanaQ Café & Bistro is the heart of the house at No. 4 Smetanovo nábřeží. It´s a meeting point for students, artists and people from all walks of life who enjoy a cup of excellent coffee or tea.
Every morning our pastry cook comes to the kitchen to bake for you a wide variety of cakes, tarts, tartlets and fruit pies. Our kitchen also makes its own savoury desserts, quiches and sourdough bread as well as hot and cold breakfasts, afternoon menu, and substantial soups prepared from fresh vegetables and home-made bouillons. In the evening, you can sit with friends over a glass of wine not only inside the café but also on our terrace, which remains cool and shady on hot days. 
We are proud to offer quality food by Czech producers from Bohemia and Moravia. We strive to make our guests feel good so that they will come back again not only to enjoy our food but – far more important – to gain new energy from this special place on the Vltava River bank, in a house that we wanted to restore to a new life.