News
Don't miss our upcoming vernissages, workshops, lectures and screenings.
Vernisáže výstav KLUBU KONKRETISTŮ

CHATRNÝ / HAJNOVÁ / VÁRADIOVÁ / JEBAVÝ / HOUSER / JEZBERA / HAYEK / KOVÁŘÍK / SVOBODA / MÁLEK / LOSKOT

23. 6. 2022 od 18:00 proběhnou vernisáže výstav KONKRÉTNÍ SMETANA a GEOMETRICKÉ PŘÍHODY 1-13, které vznikly k 55. výročí Klubu konkretistů.

Klub konkretistů vznikl v Praze v roce 1967, byl založen na pražské Kampě iniciativou Arséna Pohribného, později se teoreticky s klubem propojili také Jiří Valoch, Luba Belohradská nebo Zbyněk Sedláček. Klub byl na počátku 70. let povinně rozpuštěn, pro roce 1989 znovu ustaven a svá centra má v Praze, v Bratislavě, Hradci Králové, Olomouci.

KDY: čtvrtek 23. 6. 2022 od 18.00 hodin
KDE: SmetanaQ, Smetanovo nábř. 4 (večer začíná před galerií Fasáda v křižovatce ulic Divadelní Krocínova)

GEOMETRICKÉ PŘÍHODY – začátek v 18.00 hod (venkovní galerie je vidět z ulice Divadelní a Krocínova)
KONKRÉTNÍ SMETANA – začátek v 18.15 hod v galerii SmetanaQ

EREKCE OKA: Jiří David / komentovaná prohlídka

17. 6. 2022 od 18:00 hodin Vás srdečně zveme na komentovanou prohlídku výstavy EREKCE OKA. Provázet ji bude sám autor Jiří David.

Vizuální umělec Jiří David, narozen
28. 8. 1956, vystudoval AVU Praha
(1983-1987). Ve své tvorbě se zabývá malbou, instalacemi, fotografií, videoartem a tvorbou objektů. Před rokem 1989 byl iniciátorem neoficiálních výstav pod názvem Konfrontace. V roce 1987 spoluzaložil s umělci své generace dnes již legendární skupinu Tvrdohlaví a v pozdějších letech skupinu Reality. V druhé polovině devadesátých let působil pět let jako pedagog na Akademii výtvarných umění v Praze, kde založil a vedl ateliér Vizuální komunikace. Od roku 2002 do roku 2020 vedl ateliér Intermediální konfrontace na UMPRUM v Praze a současně od roku 2010 započal své působení také na FVU v Bánské Bystrici...

JIŘÍ DAVID / EREKCE OKA
>> výstava: 29. 4. 2022–19. 6. 2022
>> komentovaná prohlídka: 17. 6. 2022 od 18:00 hodin

SMETANAQ GALLERY / 2. patro

SUMMER SALE samples & discounts

Designéři ze SmetanaQ Showroom uvolňují sklady!
V nabídce budou jedinečné vzorky produktů, ale také poklady z minulých kolekcí za speciální ceny.
ODĚV / ŠPERK / MÓDNÍ DOPLŇKY / OBUV

A na produkty jakých značek se můžete těšit?
KRAS
HANA POLIVKOVA
FERNANDO ECHEVERRIA
DANA BEZDĚKOVÁ
VENDULA ŠULANOVÁ
JANA ROLLO
DENISA ADOLFOVÁ
DANIELA PESKOVA
HANA FRISONSOVA
TRANSFORMER JACKET
HELENA TODD
NAUT
KAFKA
ADÉLA SCHICKER
MI FASHION LABEL
ANTONIE LECHER
BASEMENT SISTERS

15.–18. 6. / 1. patro domu SmetanaQ
středa–pátek: 13:00–19:00
sobota: 11:00–18:00

Exhibition SPOLU—PRACE

Veronika Šrek Bromová & Miloš Šejn
1. 10. 2021 — 31. 3. 2022

Vernisáž 30. 9. 2021 od 18.30 hodin (součástí GRAND OPENING : SMETANAQ GALLERY)

Jaké jsou společné výhledy a jak se liší od našich očekávání? Jakou mají naše vize perspektivu a jak odvážné je tvrzení, že víme, co bude dál? Společná výstava Veroniky Šrek Bromové a Miloše Šejna v oknech galerie Fasáda se zabývá úvahou nad výhledem naší společnosti do blízké i vzdálené budoucnosti. Zdůrazňuje, jak důležité je rozhlížet se kolem sebe, vyhlédnout ven z oken svého soukromí a následně se dokázat vcítit, porozumět a nesoudit. Zve diváky, aby nahlédli pod povrch svých životů a uvědomili si, jak život každého z nás ovlivňuje společný život náš všech.

Kurátorka: Markéta Musilová

www.galeriefasada.cz

GRAND OPENING : SMETANAQ GALLERY

Srdečně Vás zveme ve čtvrtek 30. 9. 2021 na slavnostní otevření nové galerie SMETANAQ GALLERY a vernisáže dvou výstav.

Přijďte objevit jedinečné propojení galerie ve veřejném prostoru (Fasáda) s galerií s klasickým konceptem, které bude nebízet ojedinělé možnosti prezentace a nové pohledy na tvorbu lokálních umělců. Začínáme propojením výjimečných konceptuálních umělců Miloše Šejna a Veroniky Šrek Bromové.

Veronika Šrek Bromová & Miloš Šejn: SPOLU—PRÁCE
kurátorka: Markéta Musilová

18.30 hod
galerie Fasáda – křižovatka ulic Divadelní a Krocínova, Praha 1

Více informací o galerii Fasáda ZDE.

&

Miloš Šejn: Í H M N Í
kurátorka: Martina Vítková

19.00 hod
SmetanaQ Gallery – Smetanovo nábřeží 4, Praha 1
Gallery
i
Opening hours
Tu–Su 11 am – 6 pm
E-mail
gallery@smetanaq.cz
---
Located on the second floor
As part of the SmetanaQ concept of promoting art and design. There are three interconnected, painstakingly restored halls, which offer generous space with views of the Prague Castle and the Petřín Hill.
Veronika Šrek Bromová / BETWEEN GOOD AND EVIL
OPENING
December 2, 2021 from 7 pm
How much is the balance between the natural world and civilization disturbed? A multimedia artist, Veronika Šrek Bromová draws us into a suggestive personal world, into an environment in which she finds herself in close proximity to nature and at the same time absorbs the pressures of civilization. She scans the reality that surrounds her, parodies the digital world of children's animated characters, though simultaneously using digital technologies to record her communication with the natural space of the place where she lives. She captures the landscape with a moving cell phone, creating thus a disturbing drawing. The Earth's surface she compares to the surface of the body - the skin, and perceives it as the upper layer of reality. Through her own bodily experience and individual perceptions, she tries to come to the surface and thus discover the possibilities of a multi-layered perception of such a reality. Revealing the hidden and the unconscious, she uses references to mythology, rituals and shamanism, in which she sees the connection between Man and Nature and a possible path to healing. She connects the gesture and the object with the ritual, significantly applying the element of performance. The result is a recording, a fingerprint, a manipulated photo, video or a site specific installation. Through an internal statement, Bromová delivers a general message that points to the division of this world.
Curator: Adriana Primusová
VERONIKA ŠREK BROMOVÁ
Veronika Šrek Bromová was born in Prague in 1966. She graduated from the Václav Hollar Secondary Art School in Prague and in 1993 from the Studio of Illustration and Graphics led by prof. Jiří Šalamoun at the Academy of Arts, Architecture and Design in Prague. In 1997 and 2000 she was among the finalists of the Jindřich Chalupecký Award. Her work received a response abroad in 1999 representing the Czech Republic at the Venice Biennale of Contemporary Art. In 2002–2011 she ran the New Media Studio 2 at the Academy of Fine Arts in Prague. Until now, she is engaged in pedagogical activities, now she teaches at AAU Prague Cross media Studio. She specializes in art therapy and psychotherapy, organizational and curatorial work.
She has lived in Eastern Bohemia in the village of Střítež near Polička for more than ten years, where she settled with her husband Ivan Šrek and their children in the Chaos Homestead. Here, it organizes a year-round exhibition, educational and cultural program in the Cabinet Chaos Gallery and organizes art meetings and residential creative stays and workshops.
She is one of the female protagonists of the 1990s, bringing an experiment of manipulated photography and a provocative artistic gesture to the Czech environment. Her work is mainly associated with photography, but she focuses on video, spatial installations and objects, drawing and painting, and her work has a strong performative character.
Part of the implementation was created thanks to the financial support of the ICRC - creative scholarship, topic: Between Good and Evil.
SMETANAQ GALLERY
SmetanaQ Gallery is an art gallery believeing that art belongs to every household. The gallery connects the presentation of beginning artists with well-established authors, across artistic styles, gender and age. Through careful curatorial selection, it gives voice and space to those who want to present their work to the general public. It focuses on connecting the art world with the commercial world, thus creating a space for interaction, discussion and mutual inspiration. Last but not least, its goal is to enliven public space with art. That's why artists exhibiting in the gallery also present large-format works in the windows of the Facade Gallery.
Events
i
Opening hours
Dle domluvy
E-mail
event@smetanaq.cz
---
Located on the second floor
The gallery is also available for non-cultural events. Would you like to use up to 300 square metres of space with a view of the Prague Castle and Petřín? We offer a unique place for your meetings, presentations, lectures and workshops.
The price of renting the space as well as detailed specifications will be sent on request. events@smetanaq.cz
SmetanaQ Events services

We can fine-tune your event down to the last detail. We will take care of everything from the creative concept, program to decoration, lighting or catering.

Each event is unique. You can unleash your imagination and SmetanaQ Events will make it happen.

Contact us at events@smetanaq.cz
Showroom
i
Opening hours
we–fr 13:00–19:00
sa 11:00–18:00
E-mail
showroom@smetanaq.cz
---
Located on the first floor
SMETANAQ SHOWROOM is exactly the kind of space we have made available in our house for young and experienced artists to work alongside one another in shared studios, The generous, minimalistic lounge allows people interested in craftsmanship to meet artists and see how their works are created. Designers can meet both clients and other studio tenants to interact, inspire, and create. SMETANAQ SHOWROOM is also a place for exhibiting the best works from a given studio. When selecting the designers to occupy our studios, we focused on fashion and fashion accessories, jewelry and footwear. Separate studios spread across the city are without doubt poetic, but we enjoy sharing, communicating and forming communities of highly individual creators.


Opening Hours
Wednesday–Friday 13:00–19:00
Saturday 11:00–18:00
Designers
Deelive
i
Opening hours
daily 10 a.m. - 8 p.m.
E-mail
sales@deelive.cz
---
Located on the ground floor
The deelive brand focuses on the production and sale of furniture and accessories created by successful Czech designers and local up and coming talent. The aim of the brand is to bring quality Czech design to the general public, both in the Czech Republic and abroad, and to support designers in their production. DEELIVE products are characterized by their uniqueness, highly accomplished finish and top-quality materials. With the aim of extending the concept of promoting Czech design, the brand of the deelive design store offers an exclusive selection of interior furnishings, glass, lighting, jewelry, fashion and accessories, toys, books and cosmetics by Czech design.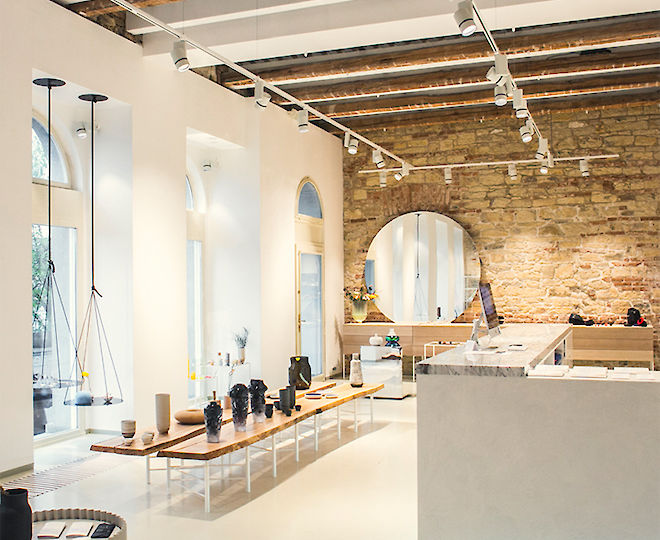 The deelive design store is one of the largest galleries in Prague that sells Czech design. It offers its customers a unique experience and a place for extraordinary meetings. Every product is treated as a work of art and sold with loving care. Professionally trained staff provide visitors with an insight into the behind of the scenes of creative work. Moreover, we can arrange a visit to the studios on the second floor, where you can watch designers at work.
Café & Bistro
i
Opening hours
MON - SUN 9 AM - 9 PM
E-mail
cafebistro@smetanaq.cz
---
Located on the ground floor
Our SmetanaQ Café & Bistro is the heart of the house at No. 4 Smetanovo nábřeží. It´s a meeting point for students, artists and people from all walks of life who enjoy a cup of excellent coffee or tea.
Every morning our pastry cook comes to the kitchen to bake for you a wide variety of cakes, tarts, tartlets and fruit pies. Our kitchen also makes its own savoury desserts, quiches and sourdough bread as well as hot and cold breakfasts, afternoon menu, and substantial soups prepared from fresh vegetables and home-made bouillons. In the evening, you can sit with friends over a glass of wine not only inside the café but also on our terrace, which remains cool and shady on hot days. 
We are proud to offer quality food by Czech producers from Bohemia and Moravia. We strive to make our guests feel good so that they will come back again not only to enjoy our food but – far more important – to gain new energy from this special place on the Vltava River bank, in a house that we wanted to restore to a new life.