News
Don't miss our upcoming vernissages, workshops, lectures and screenings.
The Project of "PRAGUE – the City for People"

Prague is a city with a genius loci second to none, abounding with beautiful monuments, a city with a rich cultural and social life, well-functioning public transportation, a place where forgotten and neglected corners have begun to come to life in the past few years. However, the pursuit of mere economic growth over the last thirty years has had a very negative effect on our capital in some respects.

In May this year, forty civic associations signed an open call for Sustainable and Neighborhood Prague with aims to improve the quality of the life in the city. Meetings and round tables are now being held on the subject. SmetanaQ, together with the Jaroslav Fragner Gallery, decided to contribute to this public discussion with the exhibition named Prague - the City for People, focusing at individual topics, such as transport, housing, the climate in the city, and sustainability. In addition to the outdoor panel exhibition in the front restaurant gardens on Smetana's embankment, the exhibition is also available on the website:

www.praha-mestoprolidi.cz
Youtube

The explosion-damaged facade has been transformed into an outdoor gallery

The Facade is the name of an extraordinary exhibition place, which was created to promote contemporary Czech art and revive not only the damaged facade of the house in Divadelní street. The intention of the debuting exhibition A View into the Window, which was inaugurated on Saturday, September 19, 2020, is to communicate with the viewer and to offer a confrontation resonating between the work and the personally acquired experience of each of us. With their free visual reflection on the same topic, 14 sought-after artists of the current generation joined the concept:

Veronika Bromová, Veronika Drahotová, Roman Franta, Lukáš Miffek, Petra Nováková Ondreičková, Michal Ožibko, Petr Písařík, Magdalena Rajnohová, Julius Reichel, Lu Jindrák Skřivánková, Miloš Šejn, Jakub Špaňhel, Sofie Švejdová, Yvonne Vácha,

with Markéta Musilová as the curator of the exhibition.

www.galeriefasada.cz

Embankment for People

Smetana's embankment became part of Experience the city differently.

On Saturday, September 19, 2020, they prepared a rich program for all neighbors and passers-by, from theater, concerts and exhibitions to art installations, presentations by local designers and artists and much more.

www.zazitmestojinak.cz

Organize your event in the exceptional SmetanaQ environment, where design and art intertwine.

We will help you fine-tune your event in detail - starting from the creative program to decoration, lighting to catering. We offer you a space with a capacity of up to 250 people, a flexible setup, technical equipment and well-proven suppliers.

Write us your idea at events@smetanaq.cz
Gallery
i
Opening hours
Tue–Sun 11 a.m. – 6 p.m.
E-mail
gallery@smetanaq.cz
---
Located on the second floor
As part of the SmetanaQ concept of promoting art and design, we have showrooms in which we collaborate with guest galleries. There are three interconnected, painstakingly restored halls, which offer generous space with views of the Prague Castle and the Petřín Hill.
5 centuries cocktail
Selective sales exhibition.
Adriaen de Gryff, Arman, Bruno Munari, Uwe Henneken, Magdalena Jetelová, Stanislav Kolíbal, Antonín Kybal, André Lhote, Antoni Tàpies, Maurice Utrillo, Ruprecht von Kaufmann, Jakub Nepraš
Events
i
Opening hours
Dle domluvy
E-mail
event@smetanaq.cz
---
Located on the second floor
The gallery is also available for non-cultural events. Would you like to use up to 300 square metres of space with a view of the Prague Castle and Petřín? We offer a unique place for your meetings, presentations, lectures and workshops.
The price of renting the space as well as detailed specifications will be sent on request. events@smetanaq.cz
SmetanaQ Events services

We can fine-tune your event down to the last detail. We will take care of everything from the creative concept, program to decoration, lighting or catering.

Each event is unique. You can unleash your imagination and SmetanaQ Events will make it happen.

Contact us at events@smetanaq.cz
Showroom
i
Opening hours
we–fr 13:00–19:00
sa 11:00–18:00
E-mail
showroom@smetanaq.cz
---
Located on the first floor
SMETANAQ SHOWROOM is exactly the kind of space we have made available in our house for young and experienced artists to work alongside one another in shared studios, The generous, minimalistic lounge allows people interested in craftsmanship to meet artists and see how their works are created. Designers can meet both clients and other studio tenants to interact, inspire, and create. SMETANAQ SHOWROOM is also a place for exhibiting the best works from a given studio. When selecting the designers to occupy our studios, we focused on fashion and fashion accessories, jewelry and footwear. Separate studios spread across the city are without doubt poetic, but we enjoy sharing, communicating and forming communities of highly individual creators.


Opening Hours
Wednesday–Friday 13:00–19:00
Saturday 11:00–18:00
Designers
Deelive
i
Opening hours
daily 10 a.m. - 8 p.m.
E-mail
sales@deelive.cz
---
Located on the ground floor
The deelive brand focuses on the production and sale of furniture and accessories created by successful Czech designers and local up and coming talent. The aim of the brand is to bring quality Czech design to the general public, both in the Czech Republic and abroad, and to support designers in their production. DEELIVE products are characterized by their uniqueness, highly accomplished finish and top-quality materials. With the aim of extending the concept of promoting Czech design, the brand of the deelive design store offers an exclusive selection of interior furnishings, glass, lighting, jewelry, fashion and accessories, toys, books and cosmetics by Czech design.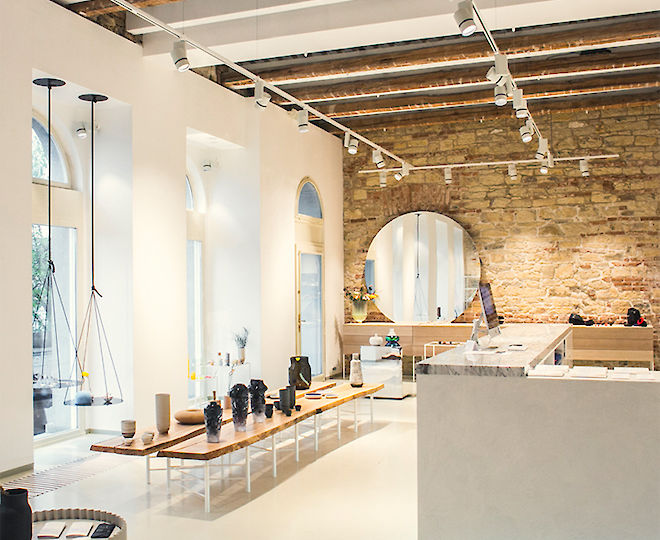 The deelive design store is one of the largest galleries in Prague that sells Czech design. It offers its customers a unique experience and a place for extraordinary meetings. Every product is treated as a work of art and sold with loving care. Professionally trained staff provide visitors with an insight into the behind of the scenes of creative work. Moreover, we can arrange a visit to the studios on the second floor, where you can watch designers at work.
Café & Bistro
i
Opening hours
MON - SUN 9 AM - 8 PM (takeaway only)
E-mail
cafebistro@smetanaq.cz
---
Located on the ground floor
Our SmetanaQ Café & Bistro is the heart of the house at No. 4 Smetanovo nábřeží. It´s a meeting point for students, artists and people from all walks of life who enjoy a cup of excellent coffee or tea.
Every morning our pastry cook comes to the kitchen to bake for you a wide variety of cakes, tarts, tartlets and fruit pies. Our kitchen also makes its own savoury desserts, quiches and sourdough bread as well as hot and cold breakfasts, afternoon menu, and substantial soups prepared from fresh vegetables and home-made bouillons. In the evening, you can sit with friends over a glass of wine not only inside the café but also on our terrace, which remains cool and shady on hot days. 
We are proud to offer quality food by Czech producers from Bohemia and Moravia. We strive to make our guests feel good so that they will come back again not only to enjoy our food but – far more important – to gain new energy from this special place on the Vltava River bank, in a house that we wanted to restore to a new life.
We are open for takeaway only. Mo - Sun from 9 AM until 8 PM (kitchen is open until 6 PM). Orders through smetanaq.sebou.cz or via Wolt.