Coming up
Don't miss our upcoming vernissages, workshops, lectures and screenings
Gallery
i
Opening hours
Tue - Sun 11 a.m. - 6 p.m.
E-mail
gallery@smetanaq.cz
---
Located on the third floor
As part of the SmetanaQ concept of promoting art and design, we have showrooms in which we collaborate with guest galleries. There are three interconnected, painstakingly restored halls, which offer generous space with views of the Prague Castle and the Petřín Hill. The gallery has high ceilings and plenty of light, which gives both the works exhibited and the visitors ample space to breathe freely.
And it can't be helped
Open Call
A nelze s tím nic dělat - And it can't be helped
Výstava děl Eugena Lemaye & Yigala Ozeri
Organizátor: galerie Čermák Eisenkraft, cermakeisenkraft.com
Kurátorka výstavy: Ysabela Pinyolová
Autoři projektu: Eugene Lemay, Yigal Ozeri, Tomáš Zapletal a David Železný
Místo: dům SmetanaQ, Smetanovo nábřeží 4, 110 00 Praha 1
Termín: 16. 11. 2017 – 20. 1. 2018
Galerie Čermák Eisenkraft otevírá další unikátní výstavu v prostorách POP-UP galerie ve SmetanaQ, kterou potvrzují Tomáš Zapletal a David Železný ambici vrátit Praze klíčovou pozici na mapě světových metropolí umění.
Expozice nazvaná "A nelze s tím nic dělat" (And it can't be helped) představuje dva odlišné příběhy světoznámých umělců Eugena Lemaye a Yigala Ozeriho. Uvnitř jejich děl jsou však ukryta osobní propojení  jejich životních zkušeností.
Introvertní Lemay se vyhýbá otevřeným politickým prohlášením, naopak dává přednost jemnějším projevům mnohoznačnosti, jež odpovídají rozpolcenosti jeho samého, co se týče jeho minulosti. Zároveň však doufá, že tato nejednoznačnost bude také sloužit jako podnět k zamyšlení. Jak sám říká, "Doufám, že se mi podaří lidi přimět, aby se zamysleli nad válkou – nad její absurdností a zbytečností. Nemusí být proléváno tolik krve, aby se o těchto otázkách začalo hovořit. Chci se lidí otázat: Proč lidská společnost tyto věci dělá?"   
Naopak foto-realista Ozeri se svou mírně prerafaelitskou estetikou vnáší do svých maleb éterickou a bezprostřední vnímavost. Jeho portréty odkazují na umělecko-historické základy v romantismu a zároveň nabízejí současný pohled na smyslnou ženskost.
Ozeriho vyobrazení znovuoživeného propojení s přírodou vycházející z jungovského pojetí duše dávají vzniknout konfrontaci podvědomé zženštilé identity a vracejí zpět krásu nevinného a autentického prožitku. Jeho fotorealistické olejové malby vyjadřují povahu jeho námětů, a uvolňují tak svůdnou energii. V důsledku toho je divák donucen "zírat" na alegorický prostor mezi realitou a fantazií.
Fotografie v tiskové kvalitě ke stažení:
Events
i
Opening hours
Dle domluvy
E-mail
---
Located on the third floor
The gallery is also available for non-cultural events. Would you like to use up to 300 square metres of space with a view of the Prague Castle and Petřín? We offer a unique place for your meetings, presentations, lectures and workshops.
The price of renting the space as well as detailed specifications will be sent on request.
KUGEMAT

SmeranaQ gallery is currently presenting KUGEMAT - an art exhibition of the works of Kurt Gebauer and Eugene Jindra - Morgenabendtot. The exhibition shows a selection of works by Kurt Gebauer a sculptor, a painter and a photographer, spanning from 1955 until the present. Most works are exhibited for the first time (drawings from the 1950's, the trubkouni (pipe-men) sculptures and Gebauer's largest canvas painting measuring 5 x 4 metres). The exhibition also introduces the sculptor Eugene Jindra, who works under a pseudonym Morgenabendtot. It is his very first exhibition. His family was prosecuted during WWII and he was later on prohibited from putting his ideas into practice under the communist regime, as such he only created privately. The exhibition presents over twenty of his sculptures, which are shrouded in mystery and work with ciphers. The exhibit is organised by the Cermak Eisenkraft gallery and ends on September 28, 2018. Free admission.

Unlit Horizon – Tanec ve virtuální realitě / Premiéra

První laureáti námětové ceny MAYA, Mária Júdová a Andrej Boleslavský, představují nový taneční film ve formátu virtuální reality. Pro zpracování totálního, imerzního zážitku tvůrci zvolili choreografii Markéty Kuttnerové LV-426, v níž tančí Fanny Barrouquère a Branislav Bašista. Výsledkem je 11 minutový snímek ve formátu virtuální reality, který prolamuje hranice mezi digitálním a skutečným světem. Diváci pomocí VR headsetu (brýlí pro virtuální realitu), mají možnost se ocitnout v bezprostřední blízkosti tanečníků, prolnout se s jejich prostorem a vnímat performance ze zcela nové perspektivy.
Bottega
i
Opening hours
Dle domluvy
E-mail
bottega@smetanaq.cz
---
Located on the second floor
The name BOTTEGA comes from the Italian word "la bottega", which refers to handicraft workshops that open onto the street: skilled designers offered their products to passers-by, who had the unique opportunity to observe them at their work. This is exactly the kind of space we have made available in our house for young and experienced artists to work alongside one another in shared studios, The generous, minimalistic lounge allows people interested in craftsmanship to meet artists and see how their works are created. Designers can meet both clients and other studio tenants to interact, inspire, and create. Our lounge is also a place for exhibiting the best works from a given studio. When selecting the designers to occupy our studios, we focused on fashion and fashion accessories, jewelry and footwear. BOTTEGA provides the environment for creating and exhibiting products in peace and comfort. Separate studios spread across the city are without doubt poetic, but we enjoy sharing, communicating and forming communities of highly individual creators.
Designers
Photo Studio
i
Opening hours
Mon - Fri 8 a.m. - 8 p.m., weekends upon request
E-mail
info@smetanaq.cz
---
Located on the second floor
Besides offering some of the most beautiful views of the Prague Castle and the Petřín Hill, the newly reconstructed SmetanaQ Cultural Centre on Smetanovo nábřeží has a café on the first floor, designer studios on the second floor and the professional PHOTO STUDIO on the second; the last named covers an area of 52 square metres. We offer our own facilities and catering services from the SmetanaQ Café & Bistro. Moreover, we can arrange the services of stylists, make-up artists, and hairdressers. On request, we are happy to provide the prices of individual photo ateliers for commercial and non-commercial projects. The studio is suitable for shooting, filming or small-scale private events.
Deelive
i
Opening hours
daily 10 a.m. - 8 p.m.
E-mail
sales@deelive.cz
---
Located on the first floor
The deelive brand focuses on the production and sale of furniture and accessories created by successful Czech designers and local up and coming talent. The aim of the brand is to bring quality Czech design to the general public, both in the Czech Republic and abroad, and to support designers in their production. DEELIVE products are characterized by their uniqueness, highly accomplished finish and top-quality materials. With the aim of extending the concept of promoting Czech design, the brand of the deelive design store offers an exclusive selection of interior furnishings, glass, lighting, jewelry, fashion and accessories, toys, books and cosmetics by Czech design.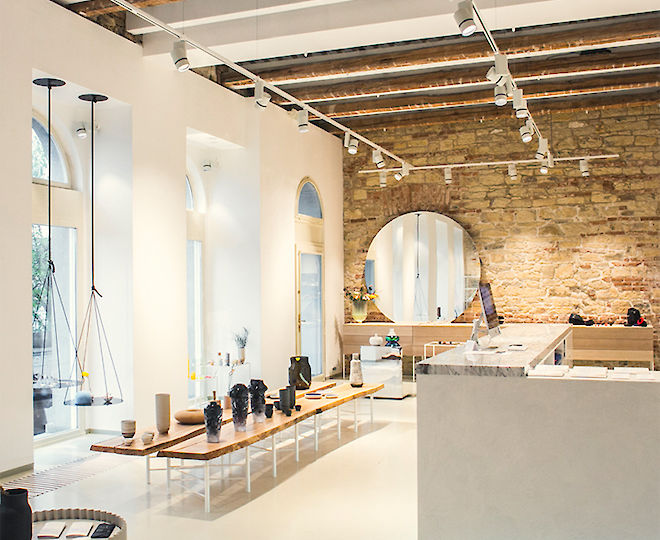 The deelive design store is one of the largest galleries in Prague that sells Czech design. It offers its customers a unique experience and a place for extraordinary meetings. Every product is treated as a work of art and sold with loving care. Professionally trained staff provide visitors with an insight into the behind of the scenes of creative work. Moreover, we can arrange a visit to the studios on the second floor, where you can watch designers at work.
Café & Bistro
i
Opening hours
Mon - Sat 8 a.m. - 9 p.m., Sun 9 a.m. - 8 p.m.
E-mail
cafebistro@smetanaq.cz
---
Located on the first floor
Our SmetanaQ Café & Bistro is the heart of the house at No. 4 Smetanovo nábřeží. It´s a meeting point for students, artists and people from all walks of life who enjoy a cup of excellent coffee or tea.
Every morning our pastry cook comes to the kitchen to bake for you a wide variety of cakes, tarts, tartlets and fruit pies. Our kitchen also makes its own savoury desserts, quiches and sourdough bread as well as hot and cold breakfasts and substantial soups prepared from fresh vegetables and home-made bouillons. In the evening, you can sit with friends over a glass of wine not only inside the café but also on our newly opened terrace, which remains cool and shady on hot days. 
We are proud to offer quality food by Czech producers from Bohemia and Moravia. We strive to make our guests feel good so that they will come back again not only to enjoy our food but – far more important – to gain new energy from this special place on the Vltava River bank, in a house that we wanted to restore to a new life.