News
Don't miss our upcoming vernissages, workshops, lectures and screenings.
SPOLU—PRACE

Veronika Šrek Bromová & Miloš Šejn
1. 10. 2021 — 31. 3. 2022

Vernisáž 30. 9. 2021 od 18.30 hodin (součástí GRAND OPENING : SMETANAQ GALLERY)

Jaké jsou společné výhledy a jak se liší od našich očekávání? Jakou mají naše vize perspektivu a jak odvážné je tvrzení, že víme, co bude dál? Společná výstava Veroniky Šrek Bromové a Miloše Šejna v oknech galerie Fasáda se zabývá úvahou nad výhledem naší společnosti do blízké i vzdálené budoucnosti. Zdůrazňuje, jak důležité je rozhlížet se kolem sebe, vyhlédnout ven z oken svého soukromí a následně se dokázat vcítit, porozumět a nesoudit. Zve diváky, aby nahlédli pod povrch svých životů a uvědomili si, jak život každého z nás ovlivňuje společný život náš všech.

Kurátorka: Markéta Musilová

www.galeriefasada.cz

GRAND OPENING : SMETANAQ GALLERY

Srdečně Vás zveme ve čtvrtek 30. 9. 2021 na slavnostní otevření nové galerie SMETANAQ GALLERY a vernisáže dvou výstav.

Přijďte objevit jedinečné propojení galerie ve veřejném prostoru (Fasáda) s galerií s klasickým konceptem, které bude nebízet ojedinělé možnosti prezentace a nové pohledy na tvorbu lokálních umělců. Začínáme propojením výjimečných konceptuálních umělců Miloše Šejna a Veroniky Šrek Bromové.

Veronika Šrek Bromová & Miloš Šejn: SPOLU—PRÁCE
kurátorka: Markéta Musilová

18.30 hod
galerie Fasáda – křižovatka ulic Divadelní a Krocínova, Praha 1

Více informací o galerii Fasáda ZDE.

&

Miloš Šejn: Í H M N Í
kurátorka: Martina Vítková

19.00 hod
SmetanaQ Gallery – Smetanovo nábřeží 4, Praha 1

EXPERIENCE THE CITY DIFFERENTLY on Smetana embankment and surroundings

On the third Saturday in September, the traditional neighborhood festivities Experience the City Differently will take place on Smetana's embankment and its surroundings. The program will include concerts, theater, workshops for children and adults and art installations. Traditionally, you will also be able to visit the Showroom and studios of Czech and Slovak designers. Hunger and thirst will drive away tasting menus and special drinks.

We will discover the complete program soon.

SmetanaQ Talks: transformation in fashion

Transformace v módě je podtitul letošního 2. ročníku minikonference SmetanaQ Talks, která je součástí oficiálního doprovodného programu Mercedes-Benz Prague Fashion Week. Formou dvou panelových diskuzí, které budou 5. a 6. května od 18 hodin vysílány online prostřednictvím Instagramu a Youtube, chceme otevřít dvě zásadní témata týkající se aktuálních proměn v módě.

Záznamy z debat na YOUTUBE SmetanaQ:

5/5/2021 ~ Co by se mělo změnit v českém módním průmyslu, aby se mu dařilo lépe?
Pozvali jsme odborníky z různých oblastí módy ~ designérku Danielu Peškovou, pedagoga Česlava Jaroše, Anetu Zelenkovou z festivalu DOTEK21, módní vizionářku Olo Křížovou a novinářku Anit Noskovou.

6/5/2021 ~ Je možné v době pandemie budovat funkční módní značku?
O své zkušenosti se podělili designéři Otakar Šenkýř, Alex Monhart a Filip Nguyen z NAUT. Designéry doplnil profesní pohled zakladatelky Institutu módní Kláry Haunerové a marketingové specialistky Pavlíny Louženské.
Gallery
i
Opening hours
Tu–Su 11 am – 6 pm
E-mail
gallery@smetanaq.cz
---
Located on the second floor
As part of the SmetanaQ concept of promoting art and design. There are three interconnected, painstakingly restored halls, which offer generous space with views of the Prague Castle and the Petřín Hill.
Miloš Šejn: Í H M N Í
The country magician, Miloš Šejn brings to Prague fragments from the whole world elevated to artifacts, building his archive for decades. Images, objects, videos, words, sounds and performances make up one whole, a reflection on natural cycles, on the coexistence of Man and Earth. Monumental canvases were created using the performative method in mountain landscapes, valleys and in the environment of city gardens. They are a record of human perception outside and inside the body, plant diversity, birdsong, wind, chill. Attentive may also discover calligraphic fragments of texts…
The video projection Zahradničení appeals to the Gardener's Year of Karel Čapek. The installation creates a landscape from the horizon of old garden watering cans. The watering cans are ready, we can break up and go watering the right places. This time our gaze wanders across the river to the country's state-building site. Perhaps there ought to be a better gardener? The exhibition is a great visual event and we can look forward to the author's performance.
curator: Martina Vítková
MILOŠ ŠEJN
Miloš Šejn was born in Jablonec nad Nisou, in 1975 he graduated from the Faculty of Philosophy at Charles University in Prague. 1976 Doctorate in Philosophy, 1991 Appointed Professor of Painting. From 1990 to 2011 he worked as a head teacher at the Intermedia Studio at the Academy of Fine Arts in Prague and as a guest teacher at the Academies in Aix-en-Provence, Carrara, The Hague, Ljubljana, Stuttgart and Vienna.
He works in the fields of visual art, performance, deals with the issue of visual perception and organizes workshops such as Bohemiae Rosa. His artistic concept was shaped from his youth, when he made a lot of journeys through the wilderness as a reflection of the inner need to approach the secrets of nature and observe the miracle that takes place there. From the early 1960s, during his travels, he photographed, drew, collected and described his observations. At present, he focuses on immediate creative possibilities, based on the relationships between the historic humanized landscape and the whole nature. He consciously works in the areas of expressive language between text, artistic footprint, body movement, voice and expansion into space.
In addition to his truly remarkable project in the Czech Republic (Sluneční hora), Šejn has permanent or procedural landscape realizations in France and Germany. He has also worked with countries in Norway, Sweden, the Netherlands, Italy, Poland, Austria, Slovenia, Croatia, Ireland and Iceland. He has been exhibiting since 1970 in a number of galleries throughout Europe and abroad, eg: National Gallery in Prague, Moravian Gallery in Brno, ifa Gallery in Berlin, Zentrum für Kunst und Medien-technologie Karlsruhe, Ludvig Forum für Internationale Kunst Aachen, MAC Musées d'Art Contemporain Marseille, Mücsarnok Budapest, Manggha Museum in Krakow, Uppsala Art Museum, Palazzo Grassi in Venice, Houston Museum of Fine Arts, Indianapolis Art Museum, MoMA PS1 New York.
SMETANAQ GALLERY
SmetanaQ Gallery is an art gallery believeing that art belongs to every household. The gallery connects the presentation of beginning artists with well-established authors, across artistic styles, gender and age. Through careful curatorial selection, it gives voice and space to those who want to present their work to the general public. It focuses on connecting the art world with the commercial world, thus creating a space for interaction, discussion and mutual inspiration. Last but not least, its goal is to enliven public space with art. That's why artists exhibiting in the gallery also present large-format works in the windows of the Facade Gallery.
Events
i
Opening hours
Dle domluvy
E-mail
event@smetanaq.cz
---
Located on the second floor
The gallery is also available for non-cultural events. Would you like to use up to 300 square metres of space with a view of the Prague Castle and Petřín? We offer a unique place for your meetings, presentations, lectures and workshops.
The price of renting the space as well as detailed specifications will be sent on request. events@smetanaq.cz
SmetanaQ Events services

We can fine-tune your event down to the last detail. We will take care of everything from the creative concept, program to decoration, lighting or catering.

Each event is unique. You can unleash your imagination and SmetanaQ Events will make it happen.

Contact us at events@smetanaq.cz
Showroom
i
Opening hours
we–fr 13:00–19:00
sa 11:00–18:00
E-mail
showroom@smetanaq.cz
---
Located on the first floor
SMETANAQ SHOWROOM is exactly the kind of space we have made available in our house for young and experienced artists to work alongside one another in shared studios, The generous, minimalistic lounge allows people interested in craftsmanship to meet artists and see how their works are created. Designers can meet both clients and other studio tenants to interact, inspire, and create. SMETANAQ SHOWROOM is also a place for exhibiting the best works from a given studio. When selecting the designers to occupy our studios, we focused on fashion and fashion accessories, jewelry and footwear. Separate studios spread across the city are without doubt poetic, but we enjoy sharing, communicating and forming communities of highly individual creators.


Opening Hours
Wednesday–Friday 13:00–19:00
Saturday 11:00–18:00
Designers
Deelive
i
Opening hours
daily 10 a.m. - 8 p.m.
E-mail
sales@deelive.cz
---
Located on the ground floor
The deelive brand focuses on the production and sale of furniture and accessories created by successful Czech designers and local up and coming talent. The aim of the brand is to bring quality Czech design to the general public, both in the Czech Republic and abroad, and to support designers in their production. DEELIVE products are characterized by their uniqueness, highly accomplished finish and top-quality materials. With the aim of extending the concept of promoting Czech design, the brand of the deelive design store offers an exclusive selection of interior furnishings, glass, lighting, jewelry, fashion and accessories, toys, books and cosmetics by Czech design.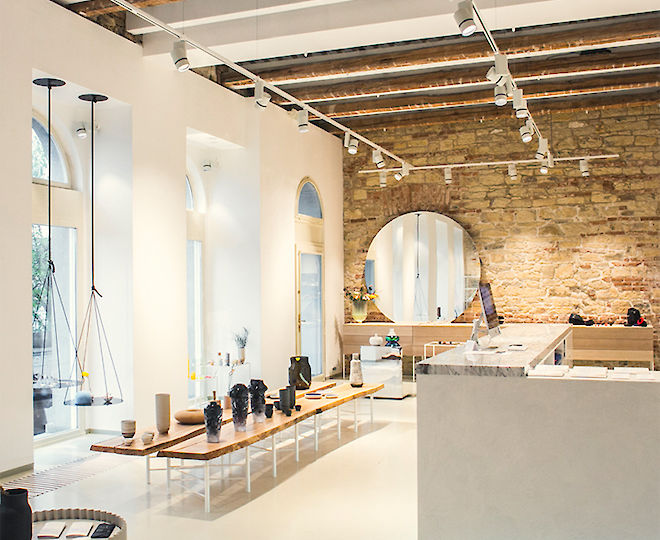 The deelive design store is one of the largest galleries in Prague that sells Czech design. It offers its customers a unique experience and a place for extraordinary meetings. Every product is treated as a work of art and sold with loving care. Professionally trained staff provide visitors with an insight into the behind of the scenes of creative work. Moreover, we can arrange a visit to the studios on the second floor, where you can watch designers at work.
Café & Bistro
i
Opening hours
MON - SUN 9 AM - 9 PM
E-mail
cafebistro@smetanaq.cz
---
Located on the ground floor
Our SmetanaQ Café & Bistro is the heart of the house at No. 4 Smetanovo nábřeží. It´s a meeting point for students, artists and people from all walks of life who enjoy a cup of excellent coffee or tea.
Every morning our pastry cook comes to the kitchen to bake for you a wide variety of cakes, tarts, tartlets and fruit pies. Our kitchen also makes its own savoury desserts, quiches and sourdough bread as well as hot and cold breakfasts, afternoon menu, and substantial soups prepared from fresh vegetables and home-made bouillons. In the evening, you can sit with friends over a glass of wine not only inside the café but also on our terrace, which remains cool and shady on hot days. 
We are proud to offer quality food by Czech producers from Bohemia and Moravia. We strive to make our guests feel good so that they will come back again not only to enjoy our food but – far more important – to gain new energy from this special place on the Vltava River bank, in a house that we wanted to restore to a new life.