Coming up
Don't miss our upcoming vernissages, workshops, lectures and screenings
SmetanaQ Afterhours Party

Open Air party at SmetanaQ - dvůr je tanečním parketem! The second party to be held outdoors. A special fashion installation on the topic of Mystery Garden accompanied by music and a Dance Academy Prague dance show by Yemi A.D. will make the courtyard alive. Dress code: jungle chic. A vegetation inspired outfit. The courtyard is a dance floor.
Gallery
i
Opening hours
Tue - Sun 11 a.m. - 6 p.m.
E-mail
gallery@smetanaq.cz
---
Located on the third floor
As part of the SmetanaQ concept of promoting art and design, we have showrooms in which we collaborate with guest galleries. There are three interconnected, painstakingly restored halls, which offer generous space with views of the Prague Castle and the Petřín Hill. The gallery has high ceilings and plenty of light, which gives both the works exhibited and the visitors ample space to breathe freely.
Král je mrtev
Open Call
The gallery Cermak-Eisenkraft presents its already tenth original exposition named King is Dead / Král je mrtev, introducing the creations of Danish visual artist Kirstine Roepstorff and Czech visual artist Matyáš Chochola. The event takes place in the premises of Cermak Eisenkraft POP-UP Gallery in the SmetanaQ house.
The Danish representative in the Venice Biennale and the laureate of the Jindřich Chalupecký Award meet to present both their recent and older works, paintings, collages, statues and installations that create a symbolical, in shades of darkness rendered landscape that is allegorically produced to narrate mythical stories and to evoke a contemplative, at the same time magnificently spiritual and powerful mood.
The works of both authors are connected by their experimental philosophical interpretations of human existence. They represent the basic pillars of cultural and spiritual essence of the mind that are stored in our subconscious, defining and predetermining our ability to grasp the situation and orientate ourselves in the environment. The works on display evoke their own archetypes that should be comprehensible to the viewer even in the absence of a particular cultural association.
Events
i
Opening hours
Dle domluvy
E-mail
---
Located on the third floor
The gallery is also available for non-cultural events. Would you like to use up to 300 square metres of space with a view of the Prague Castle and Petřín? We offer a unique place for your meetings, presentations, lectures and workshops.
The price of renting the space as well as detailed specifications will be sent on request.
Uwe Hand / Malíř

Podmanivá atmosféra, dramaticky vystupňované kompozice, citová vypjatost a využití hry světla a stínu. Tyto prvky používá ve své malířské tvorbě německý figurativní umělec Uwe Hand, jehož výstavu s názvem "Malíř" uvede galerie Cermak Eisenkraft. Uwe Hand vyrostl na mořském pobřeží v nejsevernější části Německa, což jeho tvorbu výrazně ovlivnilo – na obrazech často zachycuje symboly čtyř přírodních živlů. Výstava probíhá od 30. 11. 2018 do 14. 2. 2019 a v jejím průběhu vyjde autorova monografie.

Pudr, chrom i elegance

Poprvé se pro veřejnost otevírá unikátní sbírka prvorepublikových vintage doplňků ke stoletému výročí založení republiky - 100 let - 100 doplňků. Výstava vám odhalí tajemství ruční práce luxusních kožených doplňků zvané Maroquinerie. Pro výstavu Pudr, chrom i elegance byli osloveni designéři z Bottegy ve SmetanaQ, aby vytvořili vlastní vizi doplňků inspirovanou vintage kolekcí. O funkcionalistický zážitek se postará atelier Michala Hagary, který tvoří nadčasový nábytek z ušlechtilých materiálů. Výstava se koná od 9. 11. 2018 - 2. 12. 2018.
SmetanaQ Showroom
i
Opening hours
Dle domluvy
E-mail
bottega@smetanaq.cz
---
Located on the second floor
The name BOTTEGA comes from the Italian word "la bottega", which refers to handicraft workshops that open onto the street: skilled designers offered their products to passers-by, who had the unique opportunity to observe them at their work. This is exactly the kind of space we have made available in our house for young and experienced artists to work alongside one another in shared studios, The generous, minimalistic lounge allows people interested in craftsmanship to meet artists and see how their works are created. Designers can meet both clients and other studio tenants to interact, inspire, and create. Our lounge is also a place for exhibiting the best works from a given studio. When selecting the designers to occupy our studios, we focused on fashion and fashion accessories, jewelry and footwear. BOTTEGA provides the environment for creating and exhibiting products in peace and comfort. Separate studios spread across the city are without doubt poetic, but we enjoy sharing, communicating and forming communities of highly individual creators.
Designers
i
Opening hours
Dle domluvy
E-mail
---
Located on the second floor
Deelive
i
Opening hours
daily 10 a.m. - 8 p.m.
E-mail
sales@deelive.cz
---
Located on the first floor
The deelive brand focuses on the production and sale of furniture and accessories created by successful Czech designers and local up and coming talent. The aim of the brand is to bring quality Czech design to the general public, both in the Czech Republic and abroad, and to support designers in their production. DEELIVE products are characterized by their uniqueness, highly accomplished finish and top-quality materials. With the aim of extending the concept of promoting Czech design, the brand of the deelive design store offers an exclusive selection of interior furnishings, glass, lighting, jewelry, fashion and accessories, toys, books and cosmetics by Czech design.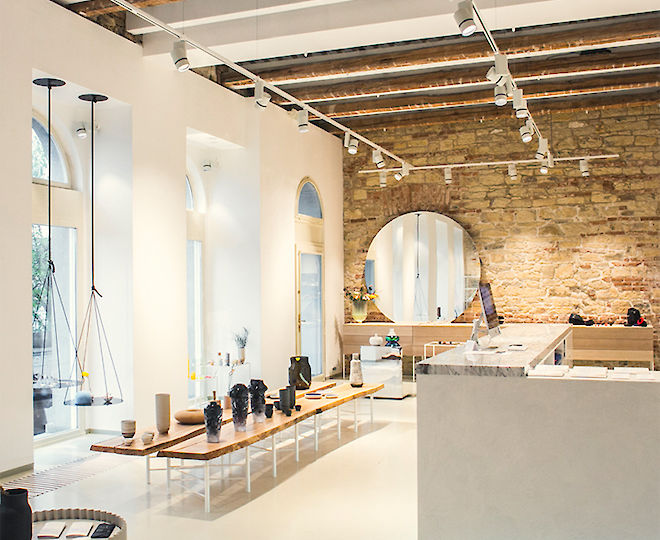 The deelive design store is one of the largest galleries in Prague that sells Czech design. It offers its customers a unique experience and a place for extraordinary meetings. Every product is treated as a work of art and sold with loving care. Professionally trained staff provide visitors with an insight into the behind of the scenes of creative work. Moreover, we can arrange a visit to the studios on the second floor, where you can watch designers at work.
Café & Bistro
i
Opening hours
Mon - Sat 8 a.m. - 9 p.m., Sun 9 a.m. - 8 p.m.
E-mail
cafebistro@smetanaq.cz
---
Located on the first floor
Our SmetanaQ Café & Bistro is the heart of the house at No. 4 Smetanovo nábřeží. It´s a meeting point for students, artists and people from all walks of life who enjoy a cup of excellent coffee or tea.
Every morning our pastry cook comes to the kitchen to bake for you a wide variety of cakes, tarts, tartlets and fruit pies. Our kitchen also makes its own savoury desserts, quiches and sourdough bread as well as hot and cold breakfasts, afternoon menu, and substantial soups prepared from fresh vegetables and home-made bouillons. In the evening, you can sit with friends over a glass of wine not only inside the café but also on our terrace, which remains cool and shady on hot days. 
We are proud to offer quality food by Czech producers from Bohemia and Moravia. We strive to make our guests feel good so that they will come back again not only to enjoy our food but – far more important – to gain new energy from this special place on the Vltava River bank, in a house that we wanted to restore to a new life.